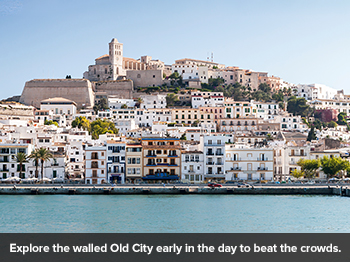 Just because your idea of an idyllic Mediterranean holiday doesn't include discos on the beach with DJs at 10 a.m., you shouldn't scratch the notoriously hedonistic Spanish island of Ibiza off your travel list. The island has quieter side just waiting to be discovered.
Ibiza's modern revival began in the 1960s, with an influx of hippies who embraced the island's natural beauty and lived alongside the farmers and fishermen. Fortunately today, that same low-key vibe permeates much of the 220-square-mile island. Most of the development and nighttime shenanigans are concentrated on an axis between Ibiza Town (or "Eivissa," as it's called in the local Catalán dialect) and Sant Antoni. The rest of the island is easy to navigate by car, scooter or bike. Whichever corner of the island you choose to explore, there's always plenty to do. Here's everything you need to know.
NORTHEAST
Ibiza's northern reaches are far removed from the hubbub in the south. This area is more mountainous, making for lots of secluded coves with generally fewer tourists. At the top of a steep hill, the town of Sant Miquel is made up of white-washed houses surrounding one of the island's prettiest churches. Those who worship style should check out the tiny workshop store of designer Dario Bome, who sells braided leather belts and colorful India-inspired backpacks and bags.
With its powdery sand and gentle slope, the beach at Aigua Blanca, near Sant Vicente on the northeast coast, is one of the island's most pleasant. Boulders and rock formations create lounging nooks that remain private even at the height of summer.
It's worth the drive to otherwise sleepy Sant Llorenç, in the island's interior, just to have dinner at the hippie-chic restaurant La Paloma. Italo-Argentine-style dishes, like the "Siennese" spaghetti with fresh tomato, peppers and creamy mascarpone cheese, are served in a pretty garden with bright blue furniture. La Paloma also has a small café that's open for breakfast and lunch; the focaccia sandwiches are awesome (try the "Lebanese," with feta, olives and baba ghanouj). Set amid orange groves in the Morna Valley is a surprisingly glamorous rural hotel named Atzaró. With its Asian-inspired décor—monumental Buddhas, basins of chilled Veuve Clicquot, a DJ booth—the hotel's open-air restaurant and poolside lounge are ideal places to get a taste of the chic Ibiza night scene without the hordes.
CENTRAL
The town of Santa Gertrudis, with its friendly village feel, is the capital of no-fuss Ibiza charm. Restaurants, taverns and kooky shops line the plaza in front of the church. For gorgeous handmade leather belts, bags and binders, stop at Te Cuero. Next door, La Plaza has a global menu with spicy shrimp curry, a Moroccan tagine of squid and lemon, and desserts like a chocolate charlotte with a decidedly English accent.
For funky housewares and breezy women's apparel, visit the Rose. On the outskirts of town, the restaurant Can Pau has served its updated Catalan cuisine to everyone from Spain's former prime minister José Maria Aznar to supermodel Naomi Campbell.
Winemaking has a long history on Ibiza—the Phoenicians planted the first grapes here some 3,000 years ago. Sa Cova near Sant Mateu is still at it, blending malvasia and muscat grapes into crisp whites that go well with the island's abundant seafood. If you visit, stay for one of Sa Cova's terrace wine tastings (reserve in advance), which pair the wines with classic Spanish cheeses.
SOUTH
Most of Ibiza's large beaches are clustered in the south—as are the crowds of sandy revelers. But the pretty little cove Es Xarcu, near the Porroig peninsula, is an exception. It's reached only by a steep dirt road and never gets as packed as nearby beaches. The small eponymous restaurant is a price point above the typical chiringuito (beach shack), which makes it a bit more exclusive. Lunch or dinner here is definitely worth the splurge if for no other reason than the Salmorreta. This meal for two starts with flaky grouper crusted with garlic, saffron, parsley and black pepper. That's followed by paella made with the same broth the fish was cooked in. To go with the meal, order a cold bottle of Barbadillo white wine. And when the sun starts to set, head to Torre del Pirata, an old fortified tower with spectacular views of Es Vedrà—a dramatic islet that some island hippies think is a base for UFOs.
A more terrestrial landmark is the design emporium Sluiz, on the main road from Sant Josep heading to Ibiza Town. Come here for bathing suits, pareos and Turkish towels in beachy greens and turquoises.
IBIZA TOWN
The walled Old City (known as the Dalt Vila, or "High Town") can be blissfully uncrowded if you go early in the day. Its stone ramparts, fortified by King Felipe II in 1555, are one of four UNESCO World Heritage Sites on the island. Get your exercise by climbing the hill to the Santa Maria cathedral and the adjacent Archeological Museum, with remnants from the island's earlier Phoenician, Roman and Moorish inhabitants. At the bottom of the hill is the "new" town, which dates to the 18th and 19th centuries. A food market in the Plaza de la Constitución emphasizes organic products like local olive oil and honey. And the surrounding streets are lined with unusual shops such as Ganesha, which sells vintage clothes and pretty Indian dresses. Prices here might seem as steep as those streets you just walked down, but owner Vicente Hernández throws in juicy gossip about the island and its beautiful people.
Many restaurants have far more tables outside than in, and in the evenings they're packed with exuberant diners. One to try is El Olivo, where you can feast on fresh seafood like locally caught skate with a butter and caper sauce.
And if the natural beauty and laid-back charm of Ibiza aren't enough for you, hop on a boat—or better yet, charter your own with Bluecharter (011-34-67-880-5287; bluecharter.es)—to Formentera, Ibiza's little sister, with fewer than 8,000 residents and miles of protected coastline. Once there, you can get lost and play Robinson Crusoe for the day.
THE DETAILS
Dario Bome: 10 Calle de la Iglesia, Sant Miquel; 011-34-97-133-4833
Te Cuero: Plaza del la Iglesia; 011-34-97-119-7100
Rose: 2 Venda de Fruitera; 011-34-680-955-615
Sant Mateu: 011-34-97-118-7046; sacovaibiza.com
Sluiz: Km. 8 Carretera Ibiza–Sant Josep; 011-34-97-180-0005
Santa Maria cathedral and Archeological Museum: 3 Cathedral Square; 011-34-97-130-1231;
Ganesha: 14 Mongri; 011-34-97-119-2282
Bluecharter: 011-34-67-880-5287; bluecharter.es
NOTE: Information may have changed since publication. Please confirm key details before planning your trip.