In Maine, summertime brings a surge of coast-bound tourists packing towns and B&Bs along the southern shore. But farther west, White Mountain National Forest rambles across the border from New Hampshire, and the peaks of the Mahoosuc Range create their own kind of natural paradise. The pristine wilderness here offers sparkling trout-filled lakes and rewarding hikes for beginners and backcountry experts alike. Whether you're eager to lace up your hiking boots, test your mettle on a white-water-rafting trip or simply want to take in the scenery over a craft beer, we reveal the best places to fall in love with western Maine, from Bethel to the Forks.
BETHEL AND NORWAY
Less than 30 minutes from the border of New Hampshire, the 18th-century logging town of Bethel sits along the Androscoggin River at the foot of Paradise Hill. Before hitting the trails, stock your pack with hiking maps and rain gear at True North Adventureware, a one-off shop selling hiking boots, active wear and camping supplies downtown. From here it's a short drive to 3,000-acre Grafton Notch State Park, which encompasses one of the most challenging sections of the Appalachian Trail.
The short but mighty Table Rock hike (2.4 miles) is the perfect option for beginners, climbing past large birch and beech trees to a flight of stone steps and providing summit views of "the Notch" and Old Speck Mountain. For intermediate ramblers, the Eyebrow Loop Trail (2.2 miles) is a more technical option, rising through hardwood forest to a section of cliffs where a series of ladders assist hikers up a portion of Old Speck's 2,900-foot shelf-overlook. Here you'll find one of the best views in the park and the chance to spot nesting peregrine falcons.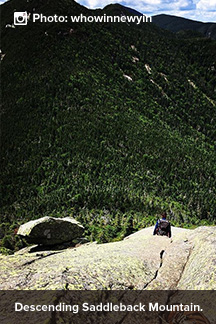 Stop for lunch at the Crossroads Diner, a favorite haunt among Appalachian Trail thru-hikers for its belly-filling portions, including the sky-high Slaw Burger, topped with coleslaw and onion rings. For a bit of shopping, Elements Arts Gallery, on Main Street, sells a selection of pottery and live-edge wood furniture by more than 40 Maine craftsmen. If you're looking to get back outside, make the 10-minute drive north to Sunday River Ski Resort, where you can soar over streambeds and a ravine on one of 6 zip-line tours, or head to New England Horseback Riding and Carriage Driving, where horse enthusiast Leonarda Joost hitches up her rescue steeds to teach hour-long carriage-driving lessons on 22 acres of cleared paths in White Mountain National Forest.
Consider booking a table on the porch of the historic Gideon Hastings House, overlooking the town common at 22 Broad Street, in Bethel, where chef Christopher Converse's lobster bisque brings a touch of Maine to the pan-Italian menu. For something a bit more casual, try the cascading lobster roll at Sunday River Brewing Co., washed down with the pub's Jamaican stout. Or head to the quaint town of Norway, a half hour south and home of the award-winning 76 Pleasant Street, which serves dishes, like lamb loin chops braised with white beans, under vintage chandeliers.
WILTON, FARMINGTON AND RANGELEY
During the first weekend in August, locals celebrate the summer harvest at the old-time Wilton Blueberry Festival, which features blueberry picking, boat rides on Wilson Lake, live music and a blueberry bake-off.
Just 15 minutes north in the adjacent town of Farmington, there's plenty to see at Frost Antiques and Gifts, a family-owned shop that has sold local Maine antiques for more than 40 years. Swing by the tasting room at Tumbledown Brewing, a recent addition to the state's flourishing craft-beer scene. Owner Matthew Swan keeps 4 house brews on tap (try the Tumbledown Irish Red). For lunch, sip a bowl of gazpacho at Soup for You! Café. If you're eager to stretch your legs, try the Tumbledown Mountain hike, in nearby Weld. Sheltered by a mix of hardwood and softwood forest, the 1.8-mile Brook Trail climbs to Crater Lake, a rare alpine pond and the perfect spot to go for a swim when the weather is warm.
For more fun in the sun, pack a picnic and point your car toward Rangeley Lakes State, an 869-acre reserve in the shadow of Saddleback Mountain, just an hour's drive northwest of Farmington. You can pause along the way on Route 17 to take in the Height of Land lookout, which has showstopping views of Mooselookmeguntic Lake below. An all-season destination for outdoor enthusiasts, Rangeley's 6 major lakes and 900 acres of land, rivers, streams and ponds are the perfect place for swimming, picnicking and canoeing, with plenty of options for hiking. The 2-mile Bald Mountain trail, in Oquossoc, which has panoramic views of the White Mountains, is a great choice. For scenery without breaking a sweat, visitors can set sail on one of Rangeley Region Lake Cruises' restored wooden boats; Rangeley offers charters and hour-long group cruises.
In the town of Rangeley you can pick up an espresso or bubble tea at Inner Eye. And you can refuel with dinner at the Rangeley Inn & Tavern, where the rustic menu includes double-cut pork chops with onion relish.
CARRABASSETT VALLEY AND THE FORKS
No trip to Maine is complete without a glimpse of the state's star animal attraction, the moose. During the summer, Sugarloaf Mountain Hotel, in Carrabassett Valley, offers weekly 3-hour guided moose safaris by bus with a 95% sighting success rate. Or plan a daylong river excursion in the Forks, a region known as Maine's white-water-rafting mecca. On Northern Outdoors' Kennebec trips, you can power through Class IV rapids inside the Upper Kennebec's rock-walled canyon. At midday you'll break for lunch at a riverside cookout where you can scout for otter and osprey while your guides prepare grilled chicken.
Back on land, raise a glass of blueberry ale at Northern Outdoors Kennebec River Pub & Brewery and toast to your time in western Maine, where there's adventure around every turn and, if you're lucky, maybe even a moose or two.
NOTE: Information may have changed since publication. Please confirm key details before planning your trip.