On the approach to Cyril King Airport, the U.S. Virgin Islands' main air hub, you get your first glimpse of that sapphire blue water. Then you catch sight of the green hills and beaches lined with palm trees. When you land you are greeted with samples of rum at the airport, which you can enter from the United States without a passport. Could a Caribbean vacation be any easier?
Purchased by the United States from Denmark in 1917, the U.S.V.I. includes three main islands: St. Thomas, St. John and St. Croix. St. Thomas is home to Charlotte Amalie (pronounced a-mahl-ya), the U.S.V.I.'s capital and a cruise ship port of call. Charlotte Amalie offers world-class shopping (the U.S.V.I. has the Caribbean's highest duty-free allowance: $1,600) and excellent restaurants. Beyond town, the north shore has dramatic mountain vistas and hidden beaches. The east end is the site of many of the island's resorts and Red Hook, a cheery village where you can find one of the best cheeseburgers in Paradise.
EASY EAST SIDE
Ever fantasized about leaving your desk job and opening a breezy bar someplace in the Caribbean? That place you dreamed about is called Red Hook. The main drag is the part of Smith Bay Road (Highway 32) that runs along Vessup Bay. Fuel up with iced coffee at Jackpots & Java (Smith Bay Rd.), a tiny spot next to the ferry to St. John. The café also serves homemade pates (pah-tayz), West Indian fried turnovers filled with spiced beef, chicken or salt cod.
Just down the road you'll find Sapphire Beach, which you can enter at Sapphire Beach Resort. After checking in with the attendant, park in the lot and head straight to the wide swath of sand shaded by sea grapes. On a clear day you'll have views of St. John, Tortola and Jost Van Dyke.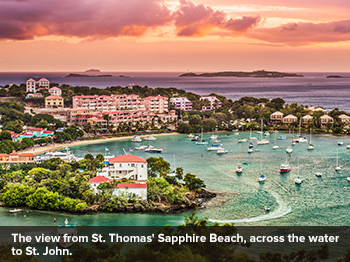 Back in town, get one of those awesome cheeseburgers at the Tap & Still, a lively bar overlooking the Red Hook marina that also has stellar wings and several beers from St. John Brewers. (Incidentally, the brewery is owned by two guys who did quit their day jobs and started a business in the islands.) Across the street you can stock up on water, sunscreen, groceries and other supplies at Moe's Fresh Market. A gem nearby is Cup-N-Kettle, a teahouse run by the friendly tea enthusiast Evelyn Turnbull. In her hilltop shop you can sample a variety of hot and iced teas, including bush tea, a West Indian drink made from any number of herbs—soursop, lemongrass, balsam, mint—that Turnbull grows out front. Don't miss the rum cake, which comes soaked in dark Cruzan rum.
Down the hill at the end of a bumpy road on the south side of Vessup Bay, Latitude 18 is a laid-back waterfront joint with live music and strong drinks. Try a painkiller (a Virgin Islands specialty made from dark rum, orange and pineapple juices, cream of coconut and a pinch of grated fresh nutmeg). The menu has some standouts, among them the shark bites (fried nuggets of locally caught shark) and the roti, an Indian-inspired wrap filled with curried shrimp or chicken, chickpeas, potato and pumpkin.
Want to get out on the water? Take a tour with Wasabi Sailing. Owner and captain Eric Hammond is a former yacht broker and has been sailing these waters all his life. His catamaran, which holds 6 guests, sets off from Secret Harbour to secluded snorkeling spots, like the crystal-clear waters off Lovango Cay. While you're checking out the sergeant majors and needlefish, Hammond sets up an impressive snack board that can include fresh pineapple, cheese, crackers and spicy hummus.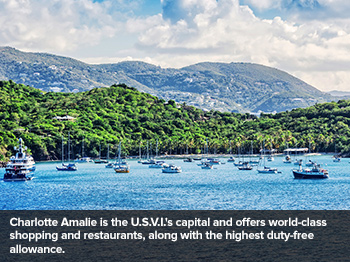 NORTH SIDE
St. Thomas's north shore is where many people live, and it's also where you'll find great beaches and restaurants and killer views that just don't quit.
The main attraction on this part of the island is Magen's Bay Beach, a broad stretch of groomed sand that goes on for about a mile. There's an entrance fee of $4 a person, but unlike at other beaches, there are lifeguards on duty, restrooms and food vendors. If you want to visit on a quieter day, make sure you don't go when cruise ships are docked at Charlotte Amalie (day-trippers come here by the busload). Check vinow.com to see up-to-date cruise-ship docking schedules.
You'll have to try hard to find tiny Platform Beach (Peterborg Peninsula), off a small residential road near Magen's Bay Beach. Park on the main road, and look for a sign that says "Via Dominica." Follow that path to the end, and take a wooden staircase down to the beach. It's a setting straight out of Fantasy Island, and if you're lucky you can watch pelicans and boobies dive-bomb the bay for fish.
For lunch, grab an overstuffed deli sandwich (and more sunscreen and bug spray or beer and wine) at the Cup & Cork. Down the road and just off a bay where fishermen haul in the day's catch, Hull Bay Hideaway offers classics like fish tacos and burgers, and specials that may include wahoo-and-shrimp cakes with ginger-jalapeño tartar sauce.
The ultimate vista is from Mountain Top, where you'll wade through a warehouse full of tchotchkes to a bar in the back. Once there, order one of the famous banana daiquiris and step onto the wraparound porch for views of Magen's Bay as well as Jost Van Dyke, Tortola, Thatch Cay, St. John and several smaller islands.
Another total insider's spot is the six-year-old Thirteen Restaurant & Bar. Consider booking a table for around sunset: You'll be rewarded with ocean views to go along with your wild-mushroom flatbread, locally caught tuna sashimi and fried-shiitake-mushroom salad.
TOURING TOWN
If you're in Charlotte Amalie on a Saturday, check out the farmers market at Market Square (Main St. at Strand Gade) for goodies such as honey and hot sauce from St. Croix, vegetables and herbs from the farms on St. Thomas's west end and spiny lobsters and fish sold off the backs of trucks.
Walk east from the square along Main Street (also called Dronningens Gade) and you'll run into some of the town's main tourist attractions, among them Fort Christian, built in the late 17th century; Frederick Lutheran Church, founded by Danish settlers in 1666; and 99 Steps, a steep stairway that dates from the mid-1700s and provides a popular photo op.
So about that shopping: Much of it is conveniently located off Main Street between the market square and Fort Christian. If you're the type that goes crazy at the sight of oodles of shops in one place, you'll find a lot to pique your interest at David Yurman, Breitling, Tiffany & Co., Rolex, Penha Duty Free, Chanel, Swarovski and the many more retailers packed into this area.
When you get hungry for a Caribbean lunch, just off Main Street is one of the best places to stop. For nearly 25 years, Cuzzin's Caribbean Restaurant & Bar has been dishing up conch fritters, conch in butter sauce, jerk chicken, peas and rice, fried plantains and fungi (a cornmeal pudding similar to polenta).
Save time to pop over to Frenchtown, at the west end of Charlotte Amalie's harbor. Huguenots from St. Barthélemy settled this neighborhood in the mid-1800s, and it still bears their mark in its winding streets and colorful homes. Visit the French Heritage Museum (admission is free) to learn about the district's history, or make your way to the top of the hill and take in yet another view, from St. Anne's Chapel. From up there it's not hard to figure out why someone, past or present, would want to settle here, in this slice of Paradise.
The Details
Tap & Still: Smith Bay Rd.; 1.340.642.2337
Moe's Fresh Market: 6205 Smith Bay Rd.; 1.340.693.0254; moesvi.com
Cup-N-Kettle: 2GA Ridge Rd., Nazareth Bay; 1.340.998.7405; cupnkettle.com
Latitude 18: Vessup Bay Marina; 1.340.777.4552
Wasabi Sailing: Secret Harbour; 1.340.344.5429; sailwasabi.com
Magen's Bay Beach: magensbayauthority.com
Cup & Cork: Magen's Point Resort; 1.340.201.4222; cupandcork.com
Hull Bay Hideaway: Rte. 37; 1.340.777.1898; hullbayhideaway.com
Mountain Top: St. Peter Mountain Rd.; 1.340.774.2400; mountaintopvi.com)
Thirteen Restaurant & Bar: 13A Estate Dorothea; 1.340.774.6800
Cuzzin's Caribbean Restaurant & Bar:cuzzinsvi.com
French Heritage Museum: Rue de St-Barthélemy; 1.340.714.2583; frenchheritagemuseum.com
NOTE: Information may have changed since publication. Please confirm key details before planning your trip.