Traveling by ship is a great way to see the world, but those all-you-can-eat buffets (not to mention the enclosed spaces) sometimes pose challenges. To help you enjoy your next cruise to the fullest, we asked three medical professionals specializing in travel and cruise medicine for their tips on staying well on board.
CALIFORNIA
Cool Patch Pumpkins
At more than 40 acres, this Northern California maze holds a Guinness World Record for its size. Dive into the labyrinth with map in hand, pausing to get your bearings on a handful of bridges that overlook the 10-foot cornstalks. The farm also has an annual scarecrow-making contest (winning entries have depicted a Starbucks barista and a headless horseman) and a 50-yard corn bath—a foot-deep pool of kernels that's always a favorite with the kids.
TOP TIP: Visit Cool Patch Pumpkins early in the day (and early in the season) to avoid maze-crazed crowds. 9000 Sparkling Lane, Dixon; 530.304.0163; coolpatchpumpkins.com
CONNECTICUT
Castle Hill Farm 
Brightly colored maples and oaks frame green fields in this beautiful corner of northwestern Connecticut, where farmer Stephen Paproski once ran a generations-old dairy. Now he attracts urbanites from New York with his 7-acre corn maze. Solve the farming trivia scattered along the narrow zigzagging paths before heading to a pumpkin patch where 26 varieties of soon-to-be jack-o'-lanterns cling to the vines. 
DON'T MISS: On weekends, stick around to hear musicians playing bluegrass. 40 Sugar Lane, Newtown; 203.426.5487;https://www.castlehillfarm.net/
IDAHO 
Straw Maze
Instead of a corn maze, Derek Jones and his partner, Jared Orr, built a labyrinth with bales of hay. Not only is the maze complex and mind-boggling—twists and turns are frequent, and it's tough to predict a dead end—it's also haunted on weekend nights by actors playing zombies, gorillas and scary clowns. 8270 S. 400 W., Rexburg; 801.769.6293; http://www.strawmaze.com
DETOUR: Stop by Big Jud's Country Diner (351 W. 7800 S., Archer; 208.359.2833), down the road, for cheeseburgers and tater tots.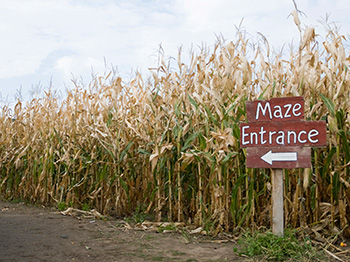 NORTH CAROLINA 
Eliada's Fields of Fun
The Eliada Homes for Children, set on 300 acres in the Blue Ridge Mountains just west of Asheville, was created in 1903 as a refuge for orphans and single mothers. It's still serving children in need: The cheerful campus has housing, a school, therapeutic recreation and child-development services for kids in foster care. Fields of Fun is a fund-raiser, so while families wander the corn maze, carve pumpkins and explore the trick-or-treat trail, they're also supporting Eliada's good works.
INFO: 2 Compton Dr., Asheville; 828.254.5356; fieldsoffun.org
ILLINOIS 
Richardson Adventure Farm
After years of hog-farming, the Richardson family switched gears and opened a 33-acre corn maze and a cut-your-own Christmas-tree operation that bring in visitors from all over. "People are more fun than hogs," says George Richardson. Previous maze designs celebrated the 100th anniversary of the Girl Scouts. Visitors can get an overview from a 50-foot tower and even travel by zip-line over the farm. THRILL SEEKERS: Take an Orb ride: Get strapped inside an 11-foot see-through ball to roll down a slide. 9407 Richardson Grove, Spring Grove; 815.675.9729; http://www.richardsonadventurefarm.com
MISSOURI
Shryocks' Callaway Farms 
Past seasons' corn-maze designs here have included the White House and the St. Louis Cardinals logo. After you navigate this year's surprise 16-acre maze, stop by the Big Red Barn to watch colorful gumballs travel up to the rafters and down on a 3-story roller coaster track made up of gadgets and tunnels. If that arouses your sweet tooth, head to the bakery for one of Grandma Shryock's famous pies.
TOP TIP: Rent a campfire space to toast marshmallows and make s'mores. 2927 County Rd. 253, Columbia; 573.592.0191; http://www.callawayfarms.com/
NEW YORK 
Krupski's Vegetable & Pumpkin Farm
This working family farm on Long Island's charming North Fork has a 4-acre haunted maze where ghosts and ghouls pop out from between rows of corn. When you've had enough screams and scares, visit the farmers market to pick up some cabbage, Brussels sprouts, tomatoes, beans and carrots to take home.
FUN FACT: When maze season ends, farmer Albert Krupski feeds the harvested corn to his chickens, which lay eggs that are sold on-site. 38030 Rte. 25, Peconic; 631.734.7841; no website
TEXAS
At'l Do Farms
What started as a simple maze and ticket stand roughly 25 years ago now draws Saturday crowds of more than 2,500 people. Visitors are just as excited about the flat Texas Panhandle maze as they are about the train rides and the pens full of pigs, goats, chickens and sheep. Past Lone Star State themes have included a covered wagon; a windmill; and iconic Texas symbols like bluebonnets, armadillos and oil rigs into a patchwork quilt. 
STICK AROUND FOR: Beautiful West Texas sunsets and starry night skies. 6323 FM 1294, Lubbock; 806.763.5594;
VERMONT 
Great Vermont Corn Maze
Stalks grow 12 feet high in this Green Mountain State maze, so it's easy to get lost in the 10 acres of twists and turns. Two acres of the former dairy farm are dedicated to laser tag, and low handicappers might want to try their hand at barnyard golf: Players use wooden canes to hit large plastic balls through tall grass, mousetraps and even laundry on the line.
NO ADULTS ALLOWED: Children can play in Kid Village—a town made up of child-sized log cabins—or make like field mice and crawl through underground tunnels. 1404 Wheelock Rd., Danville; 802.748.1399; vermontcornmaze.com
VIRGINIA 
Belvedere Plantation
Few places are as lovely in fall as Belvedere Plantation, a working farm established in 1770. "Its crops even supported General Washington and his troops during the American Revolution," says owner and farmer Donnie Fulks. Today part of the land is dedicated to a more than 30-year-old pumpkin patch and a 9-acre corn maze. Previous maze designs have given a nod to Americana: a bald eagle and an American flag. 
TOP TIP: Hopelessly lost in the maze? Raise a flag, distributed to all customers, to signal the maze master. He'll point you toward the closest exit. 1410 Belvedere Dr., Fredericksburg; 540.371.8494; belvedereplantation.com
WASHINGTON 
Rutledge Corn Maze
Conveniently located near Olympia, the Rutledge Corn Maze often has a celebrity theme: for example, Bella and Edward from the Twilight series. Rutledge has also celebrated the Seattle Seahawks with a portrait of star running back Marshawn Lynch. Explore the farm on a hayride in a wagon pulled by Clydesdales, then roast hot dogs in the large gazebo. And beware: A Michael Jackson Thriller flash mob may pop up at any time!
DON'T LEAVE WITHOUT: A bushel of Rutledge's amazing sweet corn for at-home barbecues. 302 93rd Ave. SE, Turnwater; 360.357.3700; rutledgecornmaze.com
WISCONSIN 
Waldvogel's Pumpkin Farm
An open-air train delivers visitors from pumpkin patches to the 6-acre corn maze. The farm also offers "lost mines" where kids can sift for gemstones or shimmy down a 70-foot-long underground slide. The property's big red barn is used for country music and magic acts; the next-door bakery sells hand-dipped caramel apples and slices of pumpkin pie. 
BRING YOUR BINOCS: Thanks to the nearby Horicon Marsh, nicknamed the Little Everglades of the North, hundreds of bird species fly over the farm. N7416 County Rd. I, Juneau; 920.885.9590; waldvogelfarm.com
NOTE: Information may have changed since publication. Please confirm key details before planning your trip.