Got the winter doldrums? We've got your fix! Whether you're looking to escape with a romantic getaway in the sun or need to take the whole family somewhere warm for the holidays, Mexico has so much to offer. Here are some of our favorite activities.
LOS CABOS
Date Night
Near Cabo's bars and clubs yet seemingly far away, Flora Farms transports guests to an oasis scented with dill, oregano and lavender. Part organic garden, part restaurant, Flora is an ideal spot for a date. Arrive before sunset for a tour of neat rows of baby lettuces, herbs and veggies and fields of sunflowers and hollyhocks. As the Sierra de la Laguna turns golden, you can wander toward the glowing lamps surrounding the Field Kitchen restaurant.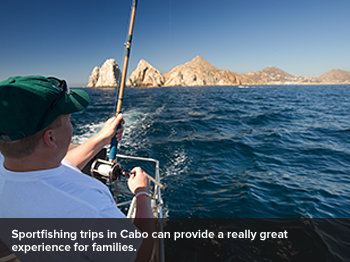 Start your meal with a watermelon mint julep at the bar, then settle in for a leisurely dinner in the open-air dining room. The seasonal menu reflects the farm setting, as it offers a substantial cauliflower "steak," hay-cooked rabbit and the wildly popular enormous double pork chop, perfect for two. Don't expect linens or fine crystal here: Drinks come in mason jars, and picnic tables fill the central dining area. Reserve a quiet table, or dine with strangers and enjoy amiable conversation and laughter. If you're looking for a memento, don't miss the fabulous gift shop after your postprandial starlight stroll.
Family Fun
Marine life in the Sea of Cortez and the Pacific Ocean is among Cabo's most enduring attractions, and fishing is a popular activity. The sight of a marlin or sailfish leaping in the sunlight is just one of the many wonders of a family sportfishing excursion.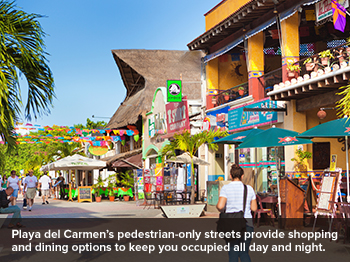 You don't have to catch a fish to enjoy the experience, though it is thrilling to hook, fight and reel in your dinner. Youngsters are excited by even the smallest catch, and non-anglers become adept at spotting zipping flying fish. Pisces Sportfishing provides all the gear and crews. They'll even clean and fillet your fish for you. Many Los Cabos restaurants will cook their diners' catch of the day. Try it grilled with mojo de ajo (garlic sauce) to enhance the freshly caught flavor.
RIVIERA MAYA
Date Night
Playa del Carmen's Fifth Avenue provides plenty of shopping, dining and people-watching opportunities along its 20 pedestrian-only blocks. Fancifully clad actors strut about on stilts, advertising the nightly extravaganza at Coco Bongo dance club, and artists create moonscapes with spray paint and torches.
Make your way to the chic rooftop bar at Hotel Cacao before sunset for a passion-fruit cocktail with an incomparable sky-and-sea view. When the light show is over, head to the lobby (don't miss Tommy Hilfiger's seashell-covered VW Bug by the elevator) for dinner at Nibs. Try chef Alejandro Cuatepotzo's take on mancha manteles ("tablecloth stainer") with mole and beef brisket or Yucatecan poc chuc pork chop with roasted habanero chilies.
Family Fun
For a dreamlike submersion in nature and history, visit Río Secreto ecological reserve. Guides lead guests outfitted in wet suits and helmets along paths into a huge hole in the limestone. Switch on your headlamp as the natural light dims to illuminate a series of underground caverns. Sunlight streams through ceiling holes and illuminates the stalactites that drip into luminescent green pools.
It's hot down there—until you step into the icy water and realize that the wet suit was a good idea. You float in the underground rivers, stopping frequently, while the guides describe ancient Maya beliefs about the underworld, where souls were thought to dwell after death. The hot, steamy sunlight seems more unreal than the dark depths as you emerge from the Earth's womb having encountered a special piece of the Riviera Maya.
There's also plenty of family fun at Xcaret. Here you'll find an underground-river ride, a superb folk-art museum and a spectacular folkloric show at night.
CANCUN
Date Night
Hundreds of colored lights glisten on fancifully decorated boats called trajineras at Xoximilco. Mariachi and marimba music plays as couples climb aboard trajineras and sit around long tables bearing juice, soda, beer and tequila. Chips, guacamole, squash blossoms and chapulines (fried grasshoppers) are passed around, and nibbling begins immediately. Dozens more trajineras glide in dark canals, carrying cooks, costumed servers and bowls of ceviche, cactus-pad salad and Oaxacan cheese. Other boats deliver traditional tamales, chicken with mole and cochinita pibil, a Yucatecan favorite consisting of shredded pork with achiote, a spice made from the seed of a tree.
As the feast continues, musicians serenade the crowd. Merry revelers disembark briefly to dance to salsa, bachata and other Latin rhythms, then reboard for coffee or rich hot chocolate and irresistible candies with coconut, nuts and dulce de leche (caramelized goat milk). The dancing continues (along with souvenir shopping) back on dry land, where designated drivers await partygoers for trips to Cancún's clubs and discos or home to bed.
Family Fun
The soft sand and turquoise sea along the east side of Cancún's hotel zone command one's attention, while freshwater lagoons and mangroves lie to the west. Adrenaline-inducing bungee jumps, WaveRunners and SkyRiders (parasails) await on the lagoon side.
Zipping over Nichupté Lagoon in a two-person speedboat is the tour's main thrill. Take the helm and follow a guide through a channel to the sea, or request a driver. Along the way you get a sense of what Cancún looked like before the resorts, malls and attractions were built. At Punta Nizuc, you don a mask and snorkel and dive into the undersea world. Newbies appreciate this experience more than seasoned divers, since the coral has endured excessive attention and isn't abundant or colorful. But tropical fish know where they are most appreciated and swarm around popular spots. Riding back into the cool lagoon is especially pleasant after swimming in bright sunlight, and the desire to race through splashing rooster tails, no matter your age or experience, is undeniable.
ACAPULCO
Date Night
Since the 1960s, celebs, royals and romantics have headed to the pink-and-white cottages at Las Brisas, above Bahía de Acapulco. Plan a leisurely, amorous evening at a table with a view of the bay at the hotel's Bellavista restaurant. Toast your date with a margarita at the Sunset Bar, atop the hotel's hill, as the sky turns a dusky rose. Move on to the restaurant for a meal of escargot, broiled lobster tail or a chateaubriand for two.
You can linger until fireworks flash over the bay and laser lights dance in the night sky. Then it's time to head to Mandara, a standout among Acapulco's discos. Take a break in a quieter setting, at the disco's Siboney piano bar; and if you're able to party like acapulqueños, try Privado, the after-hours club.
Family Fun
Plan to spend a full day at Playa Caleta, in Old Acapulco, once the city's most glamorous spot. The glitz has faded and the beach has become a local favorite, packed with families on weekends. Take one of the ubiquitous glass-bottomed-boat tours past the underwater statue of the Virgin of Guadalupe to Isla de la Roqueta. The water off the island is clear and calm, so it's one of the best places in Acapulco for snorkeling and swimming. Return to Caleta for a late lunch at one of the seafood shacks along the beach, then copy the locals and stretch out on your beach towel for a leisurely siesta before one last swim.
The Details:

Flora Farms: flora-farms.com
Pisces Sportfishing: Marina Cabo San Lucas, Hacienda Dock; 877-286-7938; piscessportfishing.com
Hotel Cacao: Fifth Ave. at Calle 32; 011-52-984-206-4199; hotelcacao.com.mx
Nibs: hotelcacao.com.mx
Río Secreto: Carr. Federal Cancún-Tulum km 283.5; 888-844-5010; riosecreto.com
Xcaret: Hwy. 307 km 282; 855-326-0682; xcaret.com
Xoximilco: Carr. Federal Cancún-Tulum km 36; 855-332-2130; xoximilco.com; adults $89
Las Brisas: Carr. Escénica; 011-52-744-469-6900; lasbrisascollection.com
Mandara: Carr. Escénica; acapulcomandara.com
NOTE: Information may have changed since publication. Please confirm key details before planning your trip.