Towering rock spires, precipitous canyons, Native-American pictographs—you'll find them all in southern Utah's national parks, some of the wildest and most scenic land around. Despite their proximity to each other, each of these 5 natural treasures has its own special appeal. And while their ochre landscapes may look otherworldly, you won't need a Mars Rover to check them out, just good ground clearance and maybe 4-wheel-drive. Start in Zion and Bryce to the west, and then move eastward to Capitol Reef, Arches and Canyonlands. The road trip will take you from arid, rocky terrain salted with surreal undulating rock forms to the whitewater rapids of the Colorado River.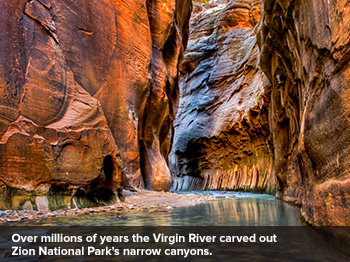 ZION: 146,560 acres
Designated in 1919, Zion was Utah's first national park, and it still draws the most visitors. Over millions of years, the Virgin River carved out the park's narrow canyons, steep rock towers and high mesas. The most popular trail, the Narrows, begins with a mile-long riverside walk before the pavement peters out and hikers start wading upriver. It's tough going, but after 2 miles you'll find yourself at the bottom of a 2,000-foot-deep chasm that squeezes to just 20 feet across. The park's southern entrance at Springdale puts you close to the visitor center and is less prone to delays. But consider the park's eastern approach, where a 12-mile drive snakes down 6 vertigo-inducing switchbacks. At one point, the road narrows before diving into a pitch-black, mile-long tunnel. On the other side, drivers emerge to wind-shorn rocks that look like rippled monoliths from another dimension.
BRYCE CANYON: 35,835 acres
Dr. Seuss must have visited Bryce Canyon for inspiration. How else to explain the eerie similarity between the fantastical landscapes Seuss drew and this park's wind-shorn spires? From afar, these ethereal formations, known as hoodoos, look like a choir standing on risers. At sunrise and sunset the sandstone flashes from iridescent red to muted orange. Indian legends say that these rocks were once people who were turned to stone by an angry coyote. Geologists, however, say wind gusts sculpted the towering pinnacles over millions of years. Despite its name, the park isn't a canyon at all but the eastern slope of the Paunsaguant Plateau. Most trails begin amid pine trees that hide dramatic vistas until you reach the plateau's edge. You might be tempted to wear sneakers, but go for boots—parts are sandy and the scree can be slippery.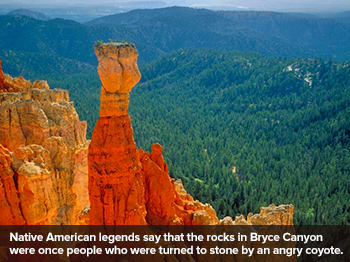 CAPITOL REEF: 241,904 acres
If you've never heard of Capitol Reef, named for massive white sandstone domes that resemble the U.S. Capitol, you're not alone—it's one of the best-kept secrets in the country. A noteworthy feature: a 100-mile-long wrinkle in the Earth's crust, known as the Waterpocket Fold. Because the park is so big, many dirt roads meant for 4-wheel-drive vehicles double as hiking trails. The best-known is Burr Trail, which runs 68 miles from Boulder to Bullfrog. Another popular route is Cathedral Valley, a rutted, 60-mile loop that goes past rock formations with biblical names like the Walls of Jericho. For a manageable hike try the Rim Overlook Trail, a 2.5-mile climb over slick, grey sandstone to the rim of the Waterpocket Fold. At the turnaround, enjoy the view of Kings Mountain, the tallest point in Utah at 13,528 feet. Pack water, since the heat in these parts can be debilitating.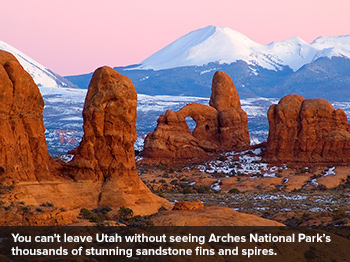 Another popular surf spot, Playa Tamarindo, has lots of restaurants, outfitters and souvenir shops. For surfboard rentals as well as group lessons, head to Iguana Surf. For private lessons with more-attentive instruction, turn to Neptuno Surf Shop. Pink and yellow chairs nestle in the sand at family-owned Nogui's, where you can order a mango-and-vanilla milkshake or the Rotonda Tica, a platter of fried eggs, beans and avocado. A short walk away, vendors sell passion fruit and other treats at the farmers market.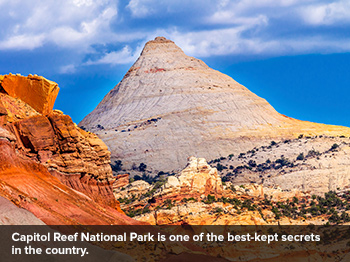 ARCHES: 76,519 acres
You haven't really been to Utah until you've seen this park's thousands of stunning sandstone arches. The arid red landscape is also punctuated by colossal sandstone fins and spires, whimsical balanced rocks and other arty erosions. A 40-mile paved road through the park leads visitors to all the mandatory sites, including Delicate Arch, Balanced Rock, Skyline Arch and an area known as Fiery Furnace. A hike here puts you in the footsteps of early Native Americans, who considered many of these formations to be sacred spots. Most of the trails intertwine in this relatively small park, so hikers (and in some cases mountain bikers) can travel between a number of great arches in only a few days.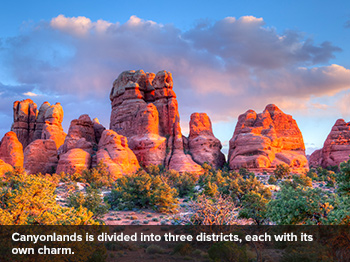 CANYONLANDS: 337,570 acres
Everything is super-sized in Canyonlands, the largest of Utah's national parks. Its canyon walls rise hundreds of feet from the desert floor, where boulders dwarf visitors. Thankfully, the park is divided into three districts, each with its own charms. The Island in the Sky section offers sweeping desert views while The Needles has stone arches, rock gardens and archeological ruins. (History buffs with a 4-wheel-drive should make the 90-minute trip from Green River to Horseshoe Canyon, a remote extension of the park that has one of the world's greatest collections of ancient rock art, or pictographs.) True to its name, The Maze is full of labyrinthine canyons of sheer rock walls and sandstone fins. Despite the park's size, you can still find yourself squeezing through a narrow slot canyon filled with cottonwood trees. For a challenging hike, take the 8-mile round-trip Syncline Loop, which circles the Upheaval Dome. This quarter-mile-deep crater still has scientists guessing how it got there.
NOTE: Information may have changed since publication. Please confirm key details before planning your trip.